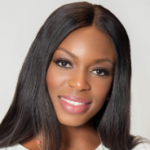 Natasha Walters
REALTOR ®
License Number: 385269
A little bit about me...
I am a customer-focused Realtor®, dedicated to providing an exceptional experience to upsizing families. As a top producing agent, I am recognized for going above and beyond to deliver impeccable service, evidenced by my glowing testimonials from satisfied clients.
A home provides a sense of belonging, pride, and security. I leverage my experience and well-honed skills from my Marketing Major to connect families with a haven where they can create cherished memories. I make customized marketing plans for sellers that get homes off the market quickly and at optimal gains. My meticulous approach to each transaction and my responsive, prompt communication and professionalism give my clients an advantage in today's competitive Atlanta marketplace. 
Although my amiable personality instantly wins my client's trust, my refreshing honesty, uncompromised integrity, and unwavering work ethic turn these interactions into long-term relationships. When you choose to partner with me, you gain access to a trusted advocate who relentlessly protects your best interests and equips you with credible resources and market trends. I provide peace of mind and instill confidence, knowing that you are in the safe hands of a competent Realtor® who walks with you to the finish line and beyond.
Originally from Jamaica, I love sharing my culture and learning about other cultures. When I am not serving clients, you may find me spending time with my husband and three sons. With a deep love for my community, I strive to lend a hand whenever the need arises and support first responders by providing coffee and tea.
I recognize real estate's power as an investment tool, and I guide and empower my clients to create generational wealth. Passionate about seeing a client's face beaming with joy after finally achieving what they deemed unachievable, I look forward to exceeding the expectations of families that are interested in upsizing in the Atlanta market.